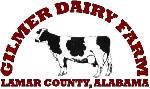 We've got plenty of tasks lined up for us today on the farm.

I'll be hooking up our spray wagon before much longer and head for the sorghum fields. We didn't get a very good control on broadleaf weeds at planting time, so I'm going to attack the morning glory, sicklepod, and cuckleburr that's beginning to plague our forage.

My dad started replanting some of our crop yesterday evening and will hopefully get finished with that today. Roughly 20 acres of sorghum in one field was destroyed by worms over the weekend and will be completely replanted with sudex (sorghum-sudangrass). He will also be doing some "spot" replanting in a few fields where our sorghum stand is not very good.

Meanwhile, the other guys will start off feeding all the heifers and will then build a fence to create a couple of new grazing paddocks. Later they will start getting the haying equipment tooled up so we can bale the few acres of sudex we cut yesterday afternoon.

And of course, there are 174 cows that will need to be milked around 1:00pm.

Here's to another hot, humid, busy, and hopefully productive day on the farm!